Big As TEXAS: An Elite Cast of Characters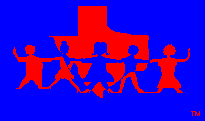 After a year of absence, Big As TEXAS is back! Hurricane Rita may have pushed us down, but not out!

We are happy to announce that Big As TEXAS: A Patchwork of Lives will take place the weekend of March 16 - 18, 2007, at the Dallas/Fort Worth Airport Marriott Hotel.
Keynote speaker: Melissa Taylor
We are pleased to announce that our keynote speaker will be Melissa Taylor, from Baton Rouge, Louisiana. Melissa is a certified fitness instructor, who specializes in fitness for large bodies. She will be discussing the importance of movement for all sizes of large, among other things.
Program:
We will begin on Friday evening with dinner followed by a nighttime swim, for those brave enough to trust Texas's March weather. For those of us who are not brave, the hospitality room will offer games, puzzles, and conversation.

On Saturday we will have a total of five workshops, including a morning movement activity, an activism workshop, a health-related workshop, a creative workshop, and an educational workshop.

At 2005's creative workshop our participants created quilt squares. In the interim, those squares were quilted into a blanket which will be raffled on Saturday night. The proceeds will go to fund size-positive literature for area elementary schools.

On Saturday evening we will have a dinner, hear from our keynote speaker, and will dance the evening hours away.

On Sunday morning we conclude with a brunch and a going away program.

Throughout the assembly, there will be door prizes and other surprises.

$125.00 registration includes three meals and all events.
$65.00 includes events but no meals.
Special vendor package available (and required).
15.00 dance only, payable at the door.
No other options available.

For Hotel reservations, call (972) 929-8800 by February 28, 2007.
Mention Big As TEXAS for reduced rate of $89.00 single/double

When making hotel reservations, it is important to make them through the Big As TEXAS block of rooms. The affordability of putting on the Big As TEXAS Assemblies rests on rooms being reserved under that block.

For further information, call Terry (409) 753-3451 or e-mail tearly6@Juno.com

A registration form is available online. It can be copied and sent (with registration fee) by ordinary mail.
---
Return to the Big As TEXAS homepage.

1/23/2007